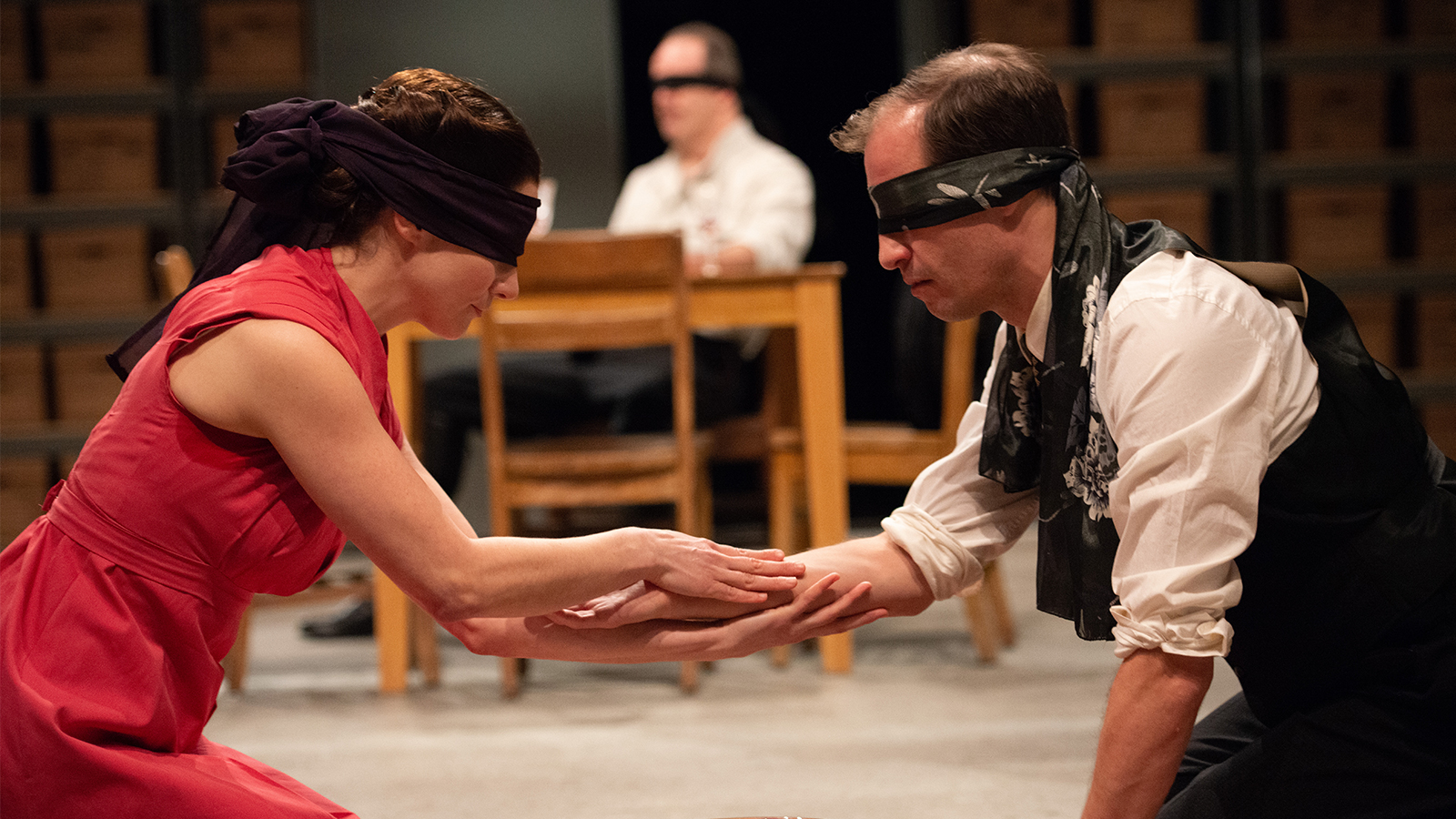 Describe the Night
Written by Ravji Joseph
directed by Blanka Zizka
The Wilma Theater
Broad & Spruce St., Philadelphia
Feb- 1-Feb 22, 2020
The Wilma Theater has been redesigned as a multi-tiered amphitheater to frame Rajiv Joseph's provocative 2017 political play 'Describe the Night.' A sterile sunken stage lined with hundreds of file boxes, and looming behind, a distant forest in Poland circa 1920. In the dark shadows of the forest, Isaac Babel is a wayward soldier writing in his diary about war crimes he has just witnessed. A Russian officer named Nikolai, interrupts and the two start a conversation that sparks an argument.
Nikolai says he understands a field war report, but 'personal observations' are lies and proclaims "Truth is what happens, false is what does not happen." Who wins this debate is left in the shadows, as we are transported to 2010 in a car rental outlet in Smolensk, Russia. Feliks the agent has witnesses a plane crash in which Polish government officials, including the president and his wife are killed. The KGB has just interviewed him and are coming back.
Meanwhile, Mariya, a journalist pounds on the door begging to be let in. She just escaped the crash scene where other reporters were being rounded up by Russian officials. The police return and Feliks and Mariya both escape, one with a mysterious diary given to Feliks by one of the dying passengers on downed flight.
But before we know what's happened to them, we flashback to 1937 Moscow, where Nikolai and Isaac get together after many years. Nikolai's wife, Yevgenia appears and seems to barely be tolerating Nikolai's controlling ways and fancies herself a seer, who Nikolai has said, always predicts war. He makes her sit with Isaac and predict his future in a ritual involving blindfolds and bathes his arms. The fates and secrets of these characters are some of the play's most dramatic moments.
Joseph goes back and forth in time as we try to piece together the mysteries of this narrative puzzle that frames the dystopian realities and scabrous illusions of 90 years of Russian history. At times, the pile-up of dizzying fragmented exposition can strain one's concentration over the course of the near three-hour production. But, past trying to figure out all of the pieces, this is exciting forensic theater of the absurd laced with magic realism.
The urgent messages of totalitarian governments boiled down to the horrors of the inescapable 'techniques' used to get 'enemies of the state' to submit. The playwright echoes the omens of Orwell realized, and of Bertolt Brecht's The Resistible Rise of Arturo Ui which Brecht wrote as a warning to America that the rise of a fascist leader can happen anywhere in the world.
Joseph's dialogue cycles are character-driven even though the subtext is freighted with political subtext, there is a sustained emotional drive in this material. This whole cast is uniformly excellent through this heavy handed material.
Blanka Zizka's sharp direction brings out the best in lengthy two-character scenes, but this is ensemble work, the artistic results of the Wilma's HotHouse roster of actors working together in studio work together (ala repertory theater) all year round. Zizka wisely doesn't have the cast use Russian accents.
Ross Beschler and Steve Rishard, as Isaac and Nikolai, deliver edgy performances full of naturalism and operatic intensity. Fine performances by Anthony Martinez Briggs and Brett Ashley Robinson as Feliks and Mariya in the dense fog of action and freighted dialogue of the first act, and later when their characters reappear.
Sarah Glinko's shows amazing range as the beautiful and furtive Yevgenia and eventually as the scary ancient Yevgenia, serving her leach soup and predicting war. Keith Conallen gives a chillingly convincing performance as Vovo, the low-level, judo-loving KBG agent who is trying to gain power by any means necessary. Vovo is Joseph's inspired proto-fictional Putin, as a cipher wrapped in a tyrant around a little boy.
He agrees to shadow a young woman that is trying to escape to the west in 1989 when the Berlin Wall comes down. Campbell O'Hare's is Yevgenia's rocker granddaughter Urzula, who knows how to tame the volcanic Vovo. The character is a fictionalized Putin, written as a cipher wrapped in a tyrant around a little boy.
The production designs keep giving and is a stunning collaboration of Thom Weaver's lighting in tandem with Matt Saunders' set, video elements by Christopher Ash and hypnotic music and sound design by composer Christopher Colucci.
Even with its jagged structural edges, and a few flat character twists, (one, in particular, is a surprise when it lands, even though it is a too convenient plot device), without doubt Ravij Joseph has written an explosive and timely political play. The messages and implications in Describe the Night narratively and visually, stay with you to chill you even more in our winter of discontent.